Whether you are growing your roses in the field or in a controlled environment such as a greenhouse, you are likely to spot white mould on their leaves at some point. This is a sign of one of the most serious rose diseases, the so-called powdery mildew. It is part of a larger category of plant diseases, all caused by specific types of fungi.
While roses may be resistant to most varieties that affect other hosts, this threatening condition still occurs more frequently than it should, which translates to an even greater need for tender loving care. This article explains why you might be seeing mildew on roses and how to make sure you have identified the problem correctly. Read below for interesting facts on powdery mildew classification as well as the natural remedies available.
General Information
There is a misconception, sadly rather common, that powder-like mildew on roses is bacterial in its nature. The true part is that it is caused by a living being rather than inner developments taking place inside the rose plant. This disease, caused by a pathogen that belongs to obligate biotrophic fungi, i.e. those that can only live, feed, and reproduce on live plant cells, affects a wide variety of hosts. There are several types of it depending on which fungus species cause it and what plant is affected. However, it is relatively easy to spot.
What causes the disease
We didn't know that much about powdery mildew until relatively recently, when genomic research offered us the key to the knowledge of its causes as well as potential cures. The genetic structures found by scientists explain the great variance within the powdery mildew fungi family. This article focuses exclusively on the species that affects roses, namely Podosphaera pannosa. In case you only have a vague idea of what fungi can be, the term refers to a wide range of living organisms, from yeasts to moulds and mildews to mushrooms and rusts. In our case, the culprit cannot properly exist except as a parasite on a plant, namely roses.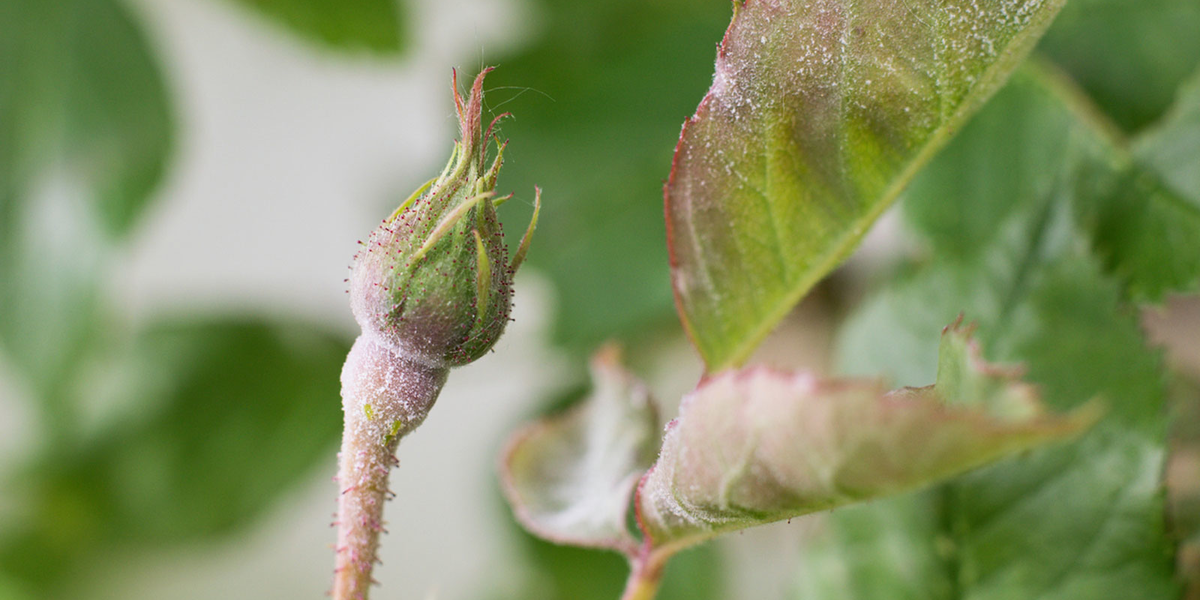 Just like many other fungi, Podosphaera pannosa feels best in humid places. It has the classical spreading needs for a representative of the kingdom, namely restricted air flow and dry soil as opposed to the humid environment above the ground. The pathogen relies on its tiny spores to reproduce, which means all parts of the plant that are exposed to the air can be affected. This include leaves as well as stems.
First mentioned as long back as in 300 BC by Theophrastus, powder-like mildew that appears on roses is a global problem despite the fungus's climatic preferences. Neither greenhouses nor the practice of growing your plants in the field outdoors can be considered as anti-powdery-mildew prevention when it comes to roses. If you sum up the amount of fungicide spread across the world to cure this plant, nearly 40% of that can be accounted for by powdery mildew. This is not to mention natural treatments that many gardeners resort to in order to avoid harsher cures (see the Methods of Control section to see if you can do without fungicide).
There's a beneficial side effect of the disease's ubiquity that has been helping gardeners a lot. A lot of resources and effort have been invested in researching it to describe the disease cycle and find the most appropriate treatment as well as to develop reliable identification methods. The latter is vital since misidentification will almost invariably result in unnecessary and useless, potentially aggressive measures. Powdery mildew is easy enough to spot when advanced. However, it can take misleading forms at certain stages, even though it is never harmless: even when it doesn't hamper the normal development of the plant, your best bet would be to acknowledge that it's temporary and the appearance of your roses is compromised.
Signs of Powdery Mildew
The name of the disease is suggestive of what it looks like: little grains on the foliage as well as other aerial parts of the rose that might remind you of powder. This appearance is often contrasted with another type of fungal disease, the so-called downy mildew, which is typically brownish-red or dark purple. Take a close look at your plants and use the checklist below to make sure they don't have powdery mildew:
The disease almost inevitably affects leaves. You can find signs on either surface of the leaf or both. It's white in color and has the characteristic powdery texture that gives the affliction its name.
While the mildew itself is white, discoloration can happen, especially if the plant is heavily affected. Its leaves can turn yellow, purple, or reddish apart from growing the light-colored powdery fluff.
You can tell the situation is really dramatic if you see curled or otherwise distorted leaves. This is not too common and typically asks for stronger measures than mildew as such.
Due to the transmission mechanism of this fungus species, no part of the plant that's exposed to air is immune to it. Remember to also check the stems, calyces, flower stalks, and petals. The chances are high that you will find matt-looking mildew on these parts, especially around the thorns. It is generally thicker in these areas, which sometimes causes mistakes in identification.
When the mildew gets out of control, it can undermine the vitality of the plant so much that its flower buds won't open properly.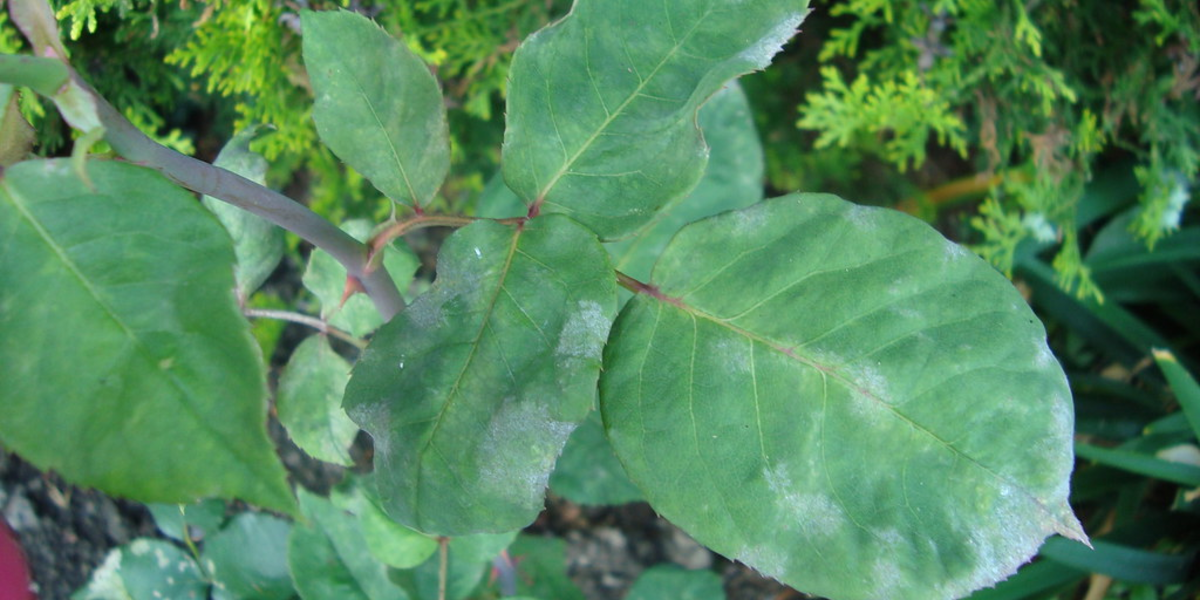 Beware of mistakes
While it's true that powdery mildew stands out among other fungi that take residence on rose plants due to its light color, we can't exclude its turning brown. This is often seen when the growth matures. Diagnosing it might not be the easiest task for an amateur gardener or rose breeder. Even professionals sometimes have trouble putting their finger on the exact reason why their plants don't look their best this season. Luckily, today's technology makes the task much easier for you.
Try using our application if you've noticed suspicious mildew-like growth on your roses. It relies on your camera to analyze what you see and identify it as powdery mildew or another disease or deformity based on a huge pool of data. Diagnosis is key to embarking on the right treatment mission since different pathogenic species need different things to survive and thus can be controlled with different methods. Read the section below to find out how you can combat powdery mildew with natural cures that are in line with today's trend towards minimum pesticide use.
White Powder on Roses: Methods of Control
Even though powdery mildew sounds like, and is, a serious enemy, your first line of therapy doesn't have to involve harsh chemicals. Most gardeners and pest experts will tell you it's preferable to start with natural remedies.
Watering and pruning routine
Good gardening practices should be part of your strategy to control powdery mildew on roses as well. This includes trimming away any affected leaves and discarding them as soon as possible. Also, make sure there's nothing to prevent the flow of air around the bush, such as dry foliage or dead stems, since that would create favorable conditions for the fungus. This might sound somewhat counterintuitive now that you know how the mildew is transmitted, but rose bushes need some air to pass through them, which means you shouldn't put off pruning for too long.
The way you water your roses is vital when it comes to mildew prevention. Overhead watering is often advised against as it may cause rot and creates humidity levels that far exceed the optimum. You can still choose to use it, but avoid watering the plants overhead in the morning or towards the evening. There's even an approach to mildew control that relies on overhead watering in really dry weather because the powder doesn't like to be exposed to water directly. If you decide to resort to it, make sure the leaves don't stay wet for a long time, as this could promote mildew growth.
Your rose-tending routine should include inspecting any new shoots for signs of mildew. Those which appear to be heavily affected have to be cut out as soon as possible to prevent the problem from spreading.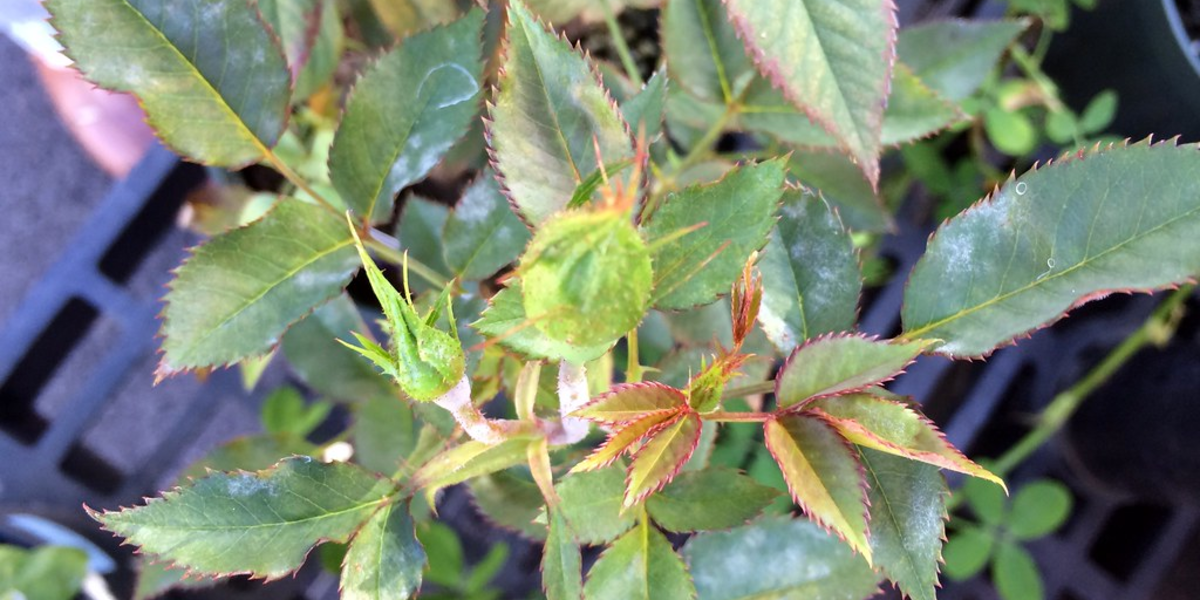 Soil hygiene
Soil quality is vital to mildew control and prevention. Finding the perfect water balance is probably the most important and challenging aspect of this, but it's a step you cannot skip because the stress associated with drought will inevitably undermine the plant's vitality, making it more susceptible to any disease, including fungal growth. On the other hand, poor drainage leads to water accumulation, which has already been mentioned to promote the growth of powdery mildew. You can try applying mulch to help water retention, but do it in moderation.
Feeding the soil to make sure your roses are strong and full of vitality is usually a good idea, but be careful when it comes to nitrogen. If you add too much of this nutrient, it can cause soft growth and even greater susceptibility to mildew.
The way you place your rose bushes is also important. Plants need plenty of space between those; an open environment will improve air circulation and prevent moisture from pooling around the roses. Another essential consideration is that roses need sunshine to grow strong. Sunlight also plays an important role in mildew prevention as it helps reduce humidity. Avoid tight corners and other places with a poor flow of air, such as against walls.
Chemical Control
The good news about powdery mildew is that most of it sits on the surface, which means you can solve the problem from the outside. Rose powdery mildew control recommended fungicides include tebuconazole, sometimes mixed with trifloxystrobin, and triticonazole. There are a number of products featuring these active ingredients on the market. One popular option is to use a combination of a fungicide with an insecticide, such as myclobutanil with addition of cypermethrin or triticonazole containing acetamiprid. Such treatment can be highly efficient but is undesirable unless there are indications. That is, there's no need to go for a combined product if you aren't facing any infestation by insects along with the mildew.
If the mildew problem occurs during the plants' growth season, you'll likely need to re-apply the chemical treatment a couple of times. This is especially true on hot days with still, windless weather. When late summer or early autumn comes, consider using a fungicide to kill any remaining mould in the buds. Unfortunately, powdery mildew can live through the winter. The most common form for anti-mildew rose treatment is a spray, which is easy to distribute across the affected surfaces and thus convenient to use.
Are there roses cultivars that aren't susceptible to powdery mildew?
Not all roses are equally good at resisting fungal diseases, and powdery mildrew is no exception to this tendency. You might come across advertisement stating that this or that plant will never contract this mould, but don't count on it too much. Presently, there's no rose cultivar that is officially powdery mildew resistant. Many rose breeders will agree that the best solution to this problem is to tweak growing conditions and your gardening routine rather than pick specific types of roses based on this criterion. If you don't have a wide choice of options when it comes to location and climatic condition, though, choosing the sturdier roses may be a good idea.
Fighting the Disease
Powdery mildew is a fungal disease that affects a variety of plants, including roses. When advanced, it can disfigure the stem as well as the leaves dramatically, hampering normal growth. If you have noticed fine white grains on your roses that look like it, use or application to make sure the diagnosis is correct and proceed accordingly if it's confirmed. Combine a healthy care routine with a fungicide spray as needed, and you'll be reaping the rewards soon.
Share your experience with mildew on roses by leaving a comment. Contribution to our shared knowledge is most welcome!